TruexCullins Joins the AIA 2030 Commitment
In conjunction with the 50th anniversary of Earth Day, TruexCullins Architecture + Interior Design announced that it has joined the AIA 2030 Commitment, a program developed by the American Institute of Architects to help architecture firms achieve net-zero carbon buildings and renovations by the year 2030.
The building industry is a major contributor to global climate change and is responsible for approximately 40% of global greenhouse gas emissions. To give architecture and design firms the tools and incentives to address this challenge, the AIA established the 2030 Commitment. The AIA 2030 Commitment is the framework by which firms measure the projected performance of current projects and report progress toward achieving a carbon-neutral portfolio.
TruexCullins is one of eight Vermont-based architecture firms and over 750 nationwide to become signatories of the AIA 2030 Commitment.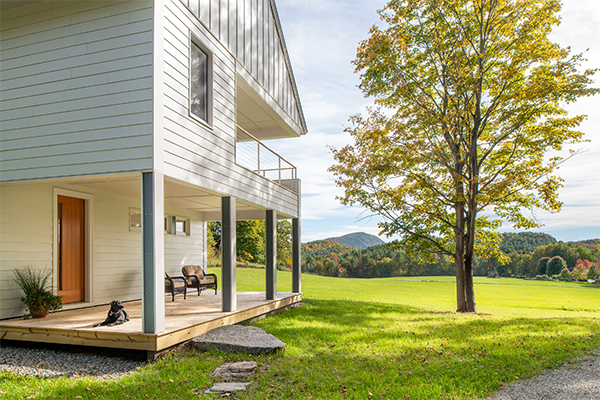 Lewis Creek Cottage, Net-Zero | Hinesburg, Vermont
As its first step toward meeting the goals of the 2030 Commitment, TruexCullins released its Sustainability Action Plan. The TruexCullins Sustainability Action Plan is a roadmap for meeting the 2030 energy goals, with specific steps the firm will take in the areas of training & education, design process & reporting, and operations & outreach.
Staff training and education is a major area of focus for meeting 2030 energy reduction targets. As the firm looks ahead to 2030, TruexCullins will expand professional development resources and programs already in place so that the entire design team will be equipped to pursue the 2030 goals and incorporate sustainability into all phases of design.
A defining objective of the AIA 2030 Commitment is to make significant reductions in the use of natural resources, non-renewable energy sources and waste production. In order to meet these goals, TruexCullins is incorporating new sustainable design tools and methods into their workflow. This includes an increased use of energy modelling to improve the projected energy use of new buildings, and Life Cycle Assessments to measure the embodied energy of building materials.

Seventh Generation Headquarters, LEED Gold Registered | Burlington, Vermont
Every TruexCullins project is based on an initial understanding of the client's goals, and then aligning those goals with building performance. "We work to maximize a client's investment to achieve the best possible return and deliver a project of lasting value, economically and environmentally," says Matt Bushey, Associate Principal who has led the firm to join the AIA 2030 Commitment.
TruexCullins will also be working to develop a workplace and culture that exemplifies sustainable design. "We want to set a positive example for our colleagues and clients by making energy efficiency improvements to our own office and instituting operational changes that minimize our carbon footprint," says David Epstein, Managing Principal. In addition to improving energy loads, the firm plans to offer transportation incentives, expand tools for remote work, and implement policies that reduce food waste and optimize cleaning methods.
Signing onto the AIA 2030 Commitment is a landmark step in affirming TruexCullins' long-standing reputation for sustainable design and advancing its efforts to combat climate change. Link to our Sustainability Page to learn more about the initiative and to download the TruexCullins Sustainability Action Plan.