TruexCullins and the 2030 Commitment: An Update on Our Path to Net-Zero
Three years ago this week, TruexCullins signed on to the AIA 2030 Commitment, pledging to track the projected energy use for all our projects.  This month, we submitted our firm's project portfolio for the fourth consecutive year, and we are happy to report that we are making steady progress toward our 2030 goals.
In the spirit of full transparency, here is a report on how we're doing: where we've made great strides over the past 3 years and what more we have to do over the next seven.
The AIA 2030 Commitment provides firms with a framework to measure project performance, with the goal that all our buildings will be net-zero energy by the year 2030.  The building sector is responsible for about 40% of global greenhouse gas emissions, making the reduction of carbon in building operations a high priority for architects.  To date, over 1,000 architecture firms nationwide have signed on.
Currently, the program's goal is to achieve an 80% reduction in projected Energy Use Intensity (pEUI).   This has stepped up every 5 years since the program began, and will continue to step up until we reach 100% reduction of fossil fuel energy use by 2030.
By the end of March of every year, the AIA asks participating firms to report the energy usage of their entire project portfolio.  Firms are asked to report all projects that were active at any point during the prior calendar year, from initial design through to the end of construction.
Architectural projects are measured by their projected Energy Use Intensity (pEUI), a measure of energy consumed per square foot.  Interiors-only projects are measured by their Lighting Power Density (LPD), a measure of watts per square foot.
This year, TruexCullins reported the largest number of projects since we began reporting: 30 projects overall, including 21 architectural projects (both new construction and major renovations), and 9 interiors-only projects.  (Some projects in our portfolio such as furnishings and master planning are not applicable and are therefore not reported.)
Our first goal when joining the 2030 Commitment was to develop a new methodology in our office for carbon counting and reporting. (Because you can not improve what you can not measure!) After publishing our Sustainability Action Plan, we turned our focus to energy modeling. We researched software options, compared products, and soon integrated energy modeling into our workflow.  We now provide energy modeling in-house, enabling us to make better decisions early in the design process.
As a result of these efforts, the number of projects we have been able to report has increased with each successive year.
The total area of the projects we have reported has also increased.  Our latest reporting represented over 645,000 square feet of building area.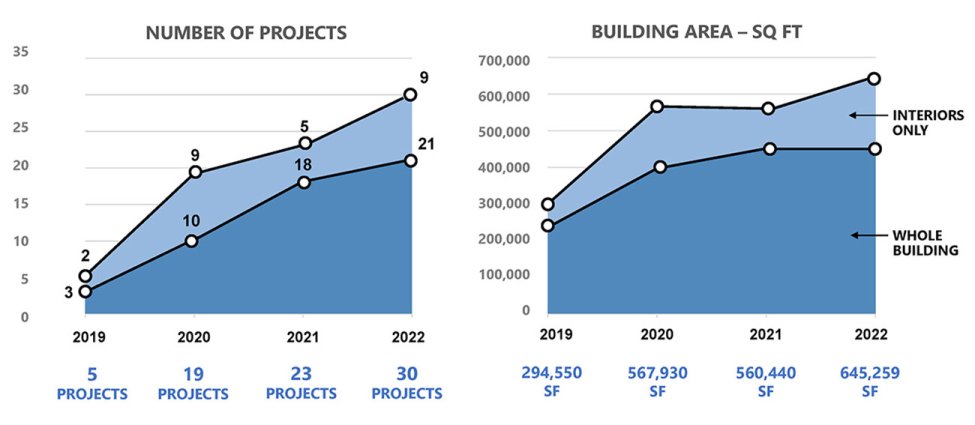 While the number of projects we are reporting has steadily increased, our firmwide performance has been hovering around a 70% energy reduction.  This is just shy of the current target of 80%.  Our latest portfolio, from 2022, showed a slight improvement from the previous 2 years, coming in at 73.25% energy reduction.
The firm average is calculated based on square-foot area.  Our largest project in 2022 was the Winooski School District expansion, so this project has been a significant factor in our firm's overall performance. The Winooski School achieved an impressively low EUI of 8.19 kBtu/sf/year, making it a model for sustainable school construction in Vermont.
Beyond this one project, we have seen an increase in the performance of our projects across the board.  The chart below shows the amount of energy reductions for all the projects we reported to the 2030 Commitment.
Five of these projects achieved the AIA target of 80% energy reduction, and 4 others hit 70%.
Much of the portfolio we reported comes from our residential studio.  Energy modeling is now a core part of the services we provide for new homes, which has pushed these homes to be more efficient and more comfortable.
Our overall portfolio did not meet the AIA target this year, but we are well on our way.  In fact, the national average for all firms in the 2030 Commitment is at about 50%, so our firmwide score of 73% is ahead of the curve.
While it's true we have been making a dedicated effort, much of our portfolio performance can also be attributed to our location in Vermont. We work in a state with building energy standards that are more aggressive than most other states around the country.  The stepped goals of the AIA 2030 Commitment are similar to the Vermont energy codes, which are also aiming for a net-zero future.  We are therefore starting from a higher baseline, from which point we push projects even further to reach toward net-zero.
In the end, the measure of success is more than just a number.  In order to reduce carbon emissions from the building sector, it is important to address all building types – homes, offices, schools, hotels, and more.  Which is why we remain committed to advancing our knowledge of building science and improving the performance of buildings across all our design studios.