Rebuilding the King Street Center, brick by brick
Today, Friday January 22nd, marks one year to the date that the doors of the King Street Center swung open, welcoming our community's kids back into the newly renovated and expanded building.  The admiration of the place was in full view a few weeks later when hundreds of people, neighbors and dignitaries alike, filled the gymnasium for the grand opening.
We were proud to work with the King Street Center to complete this building project, which is now doubled in size, with two floors of classroom space, a renovated gymnasium, a rooftop playground, and a new pedestrian-friendly entrance.
The folks at the King Street Center created this touching video documenting their first 365 days in their new home:
To celebrate this project on our end, we decided to send out custom LEGO building kits of a miniature King Street Center to our friends and clients for the holidays.
We were tickled to receive so many compliments ("The best gift under the tree") and a bit amused when many of you mistook it for an officially sanctioned LEGO product.  Many of you wanted to know how you could order your own custom LEGO building.
The confusion was understandable, and I admit, a bit deliberate.  Each gift box contained 191 LEGO bricks in clear plastic bags and a 24 page instruction booklet.  The packaging was intentionally designed to imitate an official LEGO building kit, right down to the "Customer Service" number instructing people to call our number "for assistance with the assembly of this model or another building project."
To clear up any confusion, let me pull back the curtain and reveal the secrets of our custom LEGO operation. (The LEGO lawyers want us to be clear in stating that LEGO does not sponsor, authorize or endorse this product.)
This was a TruexCullins project from the start, designed and assembled over a period of six months.  After designing a prototype, we identified the bricks we needed and shopped for each one on BrickLink.com, a third party reseller of everything LEGO that brings together buyers and sellers.  Sort of an eBay of LEGO.   Due to the high quantity, we had to order from 29 different "stores", about half from the U.S. and the rest from Canada, Germany, Belgium, the Czech Republic, and the Netherlands.
We soon became buried in LEGOs.  Each kit contained 191 pieces in 7 colors.  All in all, we ordered 57,363 individual LEGO pieces.
For a few busy days in December, our office became Santa's Workshop.  We were joined by some volunteers from the King Street Center who helped us count out each brick and assemble over 300 gift boxes.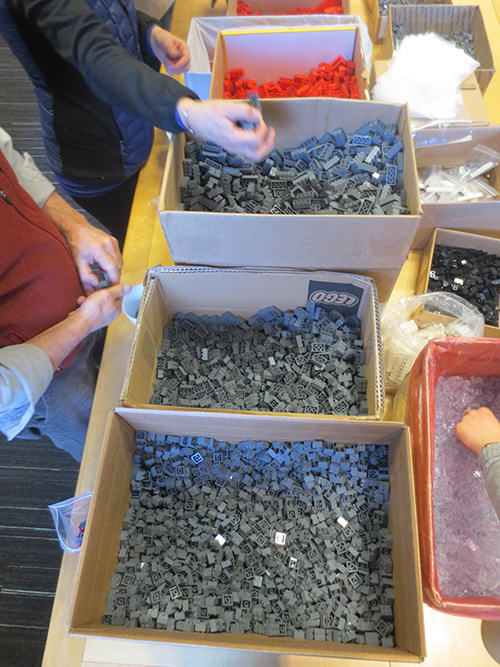 Creating this unique gift was a labor of love for us, and not one which we expect to repeat often.  But we felt this little LEGO toy suitably reflected the joy we felt from the real King Street Center, and from all of the people there who we've worked with and who now call that special place their home.
Save