TruexCullins Announces Staff Promotions for 2023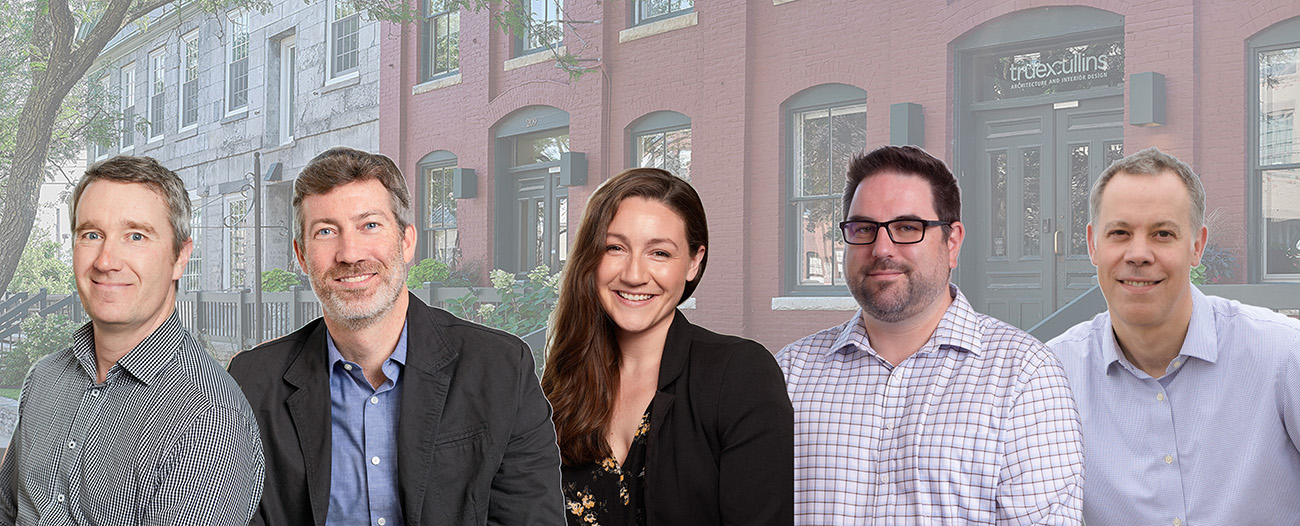 With the start of the new year, we celebrate new roles for five of our bright stars!
We are pleased to announce the promotion of five key individuals who have made significant contributions at TruexCullins and will play a major role in leading the firm into the future.
Keith Nelson and Matt Bushey have been named Principals with the firm. Cam Featherstonhaugh and Tom Karlhuber have been promoted to Senior Associate.  And Jessica Holdredge has been named an Associate with TruexCullins.
Keith Nelson has been with TruexCullins since 2002, and over these past 20 years has made indelible contributions to the growth and success of the firm. His work is focused on our hospitality and residential markets, where he has developed longstanding client relationships on projects across the country. He is well regarded by colleagues and clients as a talented designer and project leader, with an effective communication style and an inclusive management approach that empowers his team. Within the office, Keith is a trusted mentor to colleagues at all stages of their careers. He oversees our Revit support group and facilitates regular design discussions, building a culture of collaboration within our residential studio. His insight and guidance continues to enrich our design processes and improve the quality of our work.
Matt Bushey has been with TruexCullins since 2006 and is a recognized leader among his peers and within the design community. Matt is a LEED Accredited architect in our hospitality and workplace design studios, with expertise in the design of workplace environments that reflect a company's unique values and brand identity. He has a leadership style that fosters open communication and collaboration, and has managed many successful projects with seamless coordination between architecture and interiors. Matt leads the TruexCullins 2030 Group and guides our efforts as a signatory of the AIA 2030 Commitment to achieve net-zero carbon emissions for all our projects. As 2022 President of AIA Vermont, Matt authored a five-year Strategic Plan, based on AIA Vermont's three core values of member engagement, climate action, and public outreach. He also recently completed ten years of service on the Burlington Design Advisory Board.
Cam Featherstonhaugh joined TruexCullins in 2013, and in that time has played a key role in the growth of our K-12 Education Studio. Cam is well regarded for his knowledge of sustainable building practices and building science, and he brings this expertise to the design and development of K-12 schools throughout the state. He is well versed in the educational pedagogy of 21st century learning and is adept at guiding his clients through the challenges and opportunities of the design and construction process. Cam is currently the National Board Chair of the Construction Specifications Institute, leading an organization of 8,000 professionals nationwide. Through CSI, Cam is working to improve the quality of construction documents and project communication, construction standards and publications, and continuing education for construction professionals.
Tom Karlhuber joined TruexCullins in 2017 and has quickly become one of the firm's most proficient studio leaders.  Tom is a versatile architect with 20 years of experience from Boston and Vermont firms. He has a rich background ranging from major institutional projects to intimate homes and interiors. Through the variety of work at TruexCullins, Tom has continued to pursue design at multiple scales, developing the special attributes of each project. His attention to his client's needs and his ability to translate those requirements into workable, innovative solutions has resulted in successful outcomes and satisfied owners. Most recently, Tom's work has focused on the design of high-performance buildings that make a positive contribution to their urban context, often in downtown or campus environments. Tom is a member of the Shelburne Museum Barnstormers Steering Committee and serves on the Shelburne Planning Commission.
Jessica Holdredge has been with TruexCullins since 2015 and is a leader within the Interior Design studio at TruexCullins. Her area of expertise is in the design of hospitality and restaurant interiors. Jessica has the keen ability to understand the indigenous culture and context of a project and to weave this into a creative design solution that fulfills the functional needs at hand. This results in projects with an authentic sense of place and a memorable guest experience. Jessica is a leader among her peers, and fosters a strong sense of teamwork among all the interior designers at TruexCullins.
Congratulations to Keith, Matt, Cam, Tom and Jes!