Building Hope for the Women of Nepal
Last week we announced an exciting new campaign with Edge of Seven, a 501(3)c non-profit organization that works to build infrastructure and provide opportunity for women and girls in rural Nepal. Edge of Seven typically partners with local groups in Nepal to facilitate their projects and ensure that they are community focused and locally driven.
Edge of Seven joined one such group, The Small World, and together they have introduced an innovative and sustainable building method for the construction of new schools for Nepalese villages.
A SUSTAINABLE BUILDING SOLUTION
EARTHBAG CONSTRUCTION
Earthbag construction uses readily-available polypropylene rice bags filled with dirt as primary building blocks. The bags are laid in courses, like bricks, and covered with chicken wire and plaster.
This building method is environmentally friendly, sturdy and earthquake-resistant. Building with earthbags is affordable and requires less skilled labor than traditional masonry construction, allowing community volunteers to participate in the construction.
The first earthbag school in Nepal was built in the village of Phuleli, completed one year ago in February 2012. The facility, located in Nepal's Everest Region, houses classes 7 and 8, enabling more students to receive an education in a safe and healthy learning environment closer to home.
Phuleli is a community plagued by poverty. 90% of families live off of subsistence farming and many families cannot afford to send their students to school. Previously, classes 7 and 8 had to walk 2 hours daily to a neighboring village to attend school. Many families chose to keep their girls at home, concerned about the large volume of household chores and the time away from the fields.
Another project was recently completed in the village of Basa. Up until this time, there had been only one higher secondary school in the Everest region of Nepal to serve 34 Village Development Committees and a total population of 107,686 people. The Government of Nepal approved the addition of a second higher secondary school in Basa, one of the largest communities with a population of approximately 4,000, to educate 150 students per year.
This is a two stage building project that is constructing two structures using the earthbag method. Each building is a two room structure that can hold up to 45 students per room. Again this project is being built in partnership with the local community and Nepali NGO, The Small World.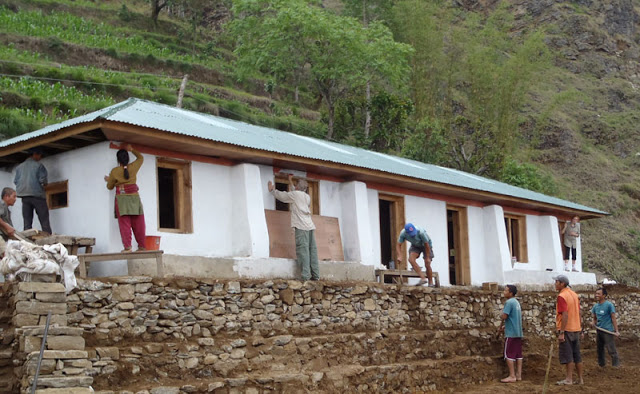 We are happy to share the stories of these successful projects by Edge of Seven, but our real interest lies in another project with them, one in which TruexCullins is taking a more active part.   More on that next time…