Williston Central School Welcomes Students Back with $20m Building Renovation
School is back in session and students are heading back to the classroom. For students in Williston, they're stepping into what feels like a brand new school.
Two years ago, Williston voters approved a Municipal Bond of nearly $20 million to fix their aging school. The building houses approximately 700 students and 150 faculty and staff, and was in dire need of repairs and modernization. The first sections of the 145,000 sq. ft. school were built in 1949 and still had the original windows in place.  Subsequent additions in 1954, 1959, 1966, and 1991 resulted in a complicated yet well-appointed facility.
As is common with school construction in America, the building was originally built during an era when energy was cheap, and with building materials that have now proven to be unsuitable for humans. For example, some parts of the building had walls that were uninsulated and single-glazed windows. Other areas had the original asbestos tile flooring from the 1950s and 60s still in place, which required extensive maintenance in order to keep the asbestos materials inert.
The school facility committee and TruexCullins worked together using the Whole Child Framework to set out guiding principles for the design team. As developed, the guiding principles for the school's renovation needed to: a) provide a safe and healthy environment for learning, b) repair and renew the community asset for future generations, and c) reduce environmental impacts and operating costs.
The library is at the heart of the school's transformation. One of the most used spaces on campus, the library was re-planned and re-envisioned with new finishes, kid-sized display shelving, a new reading igloo, circulation desk, and a new space called the Creation Space, which is a mini maker-space.
Starting in the 1970s and continuing through the 1990s, it was fashionable to design schools with "open plans".  These schools typically had large open spaces and classrooms that were divided by light partitions.  Open plan schools have since fallen out of favor, but the 1991 wing of the school is divided into three open-plan "pods", each of which has a common space referred to as the "Kiva".
The word "Kiva" comes from Native American culture.  Pueblo tribes in the American Southwest used rooms called a Kiva for religious rituals and political meetings. They were typically square-walled and underground. The ruins of this kiva were unearthed in the Petrified Forest National Park in Arizona:
In modern schools, the Kiva concept has been reinterpreted and applied to the creation of collaborative classroom spaces. In one wing, the "pods" of classrooms are organized around the shared team space, or the "Kiva". Here, teachers and students engage with one another in a flexible, multi-use environment, suited to team gathering, group instruction, or even one-on-one learning.  Permanent walls with oversized sliding doors were added to provide more separation between individual classrooms, while preserving the open and collaborative team concept.
Down the hall, the old Home Economics rooms got a major facelift. Now dubbed Family and Consumer Science, this lab was completely renovated with new equipment and a commercial kitchen aesthetic. The idea behind this renovation is that schools need to do more than prepare students to make food for families. Schools must prepare students to be college or career ready.
"Students don't want to be a 'Suzie Homemaker', they want to be an Iron Chef", says FACS teacher Kim McMahon. Mobile work tables occupy the center of the room and fully equipped kitchen stations line the perimeter, with electric ranges, stainless steel counters, and clean storage and prep areas –  the perfect training lab for budding chefs.
Other building improvements may not be as visible but are just as critical to the health and comfort of all the students and staff.
Every classroom, office, and support space was renovated to remove and replace hazardous materials. The school also received new windows, additional wall and roof insulation, and a new plumbing and super-efficient HVAC system designed to reduce water and energy consumption. A new energy recovery ventilation system monitors CO2 levels in all occupied areas and delivers fresh air as needed to keep students and teachers alert and healthy while reducing energy use. In addition, the entire building was sprinklered to improve safety and asset protection.
ReArch Company of South Burlington worked tirelessly over 15 months to deliver a project that came in on time and under budget, opening in time for the start of the 2018/2019 school year. Over both summers, ReArch was on site 7 days a week to take advantage of the months when school was not in session. During the school year, swing spaces were set up to accommodate ongoing classes and to keep students and construction crews safely separated. Overall the construction was split into seven – yes, seven – phases, with as many as 120 workers on site during some days.
The Williston school district did a great job of keeping the community informed throughout the entire process, with public information sessions, building tours, one-on-one outreach, and a direct mailer campaign  The District also launched a website with ongoing blog posts to keep the community informed and engaged.  Here anyone could easily check up on construction photos, phasing diagrams, meeting minutes, and work summaries during construction. The level of transparency offered by the School District was extraordinary and really helped to minimize surprises and conflict.
After this long design and construction process, the teachers have unpacked their supplies and the students are back in class.  But right before the first day of school, a group of community members came together to celebrate the re-opening of their school and cut the ribbon on the $20 million project. The pride of a job well done was evident on everyone's faces.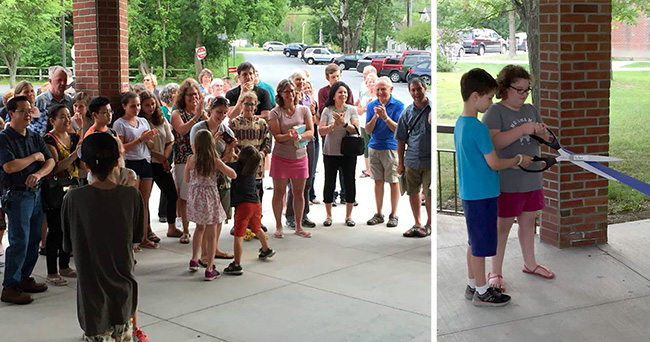 You can read more about how TruexCullins designs for the Whole Child in this 4-part blog series "The Whole Child Framework" at www.truexcullins.com/the-whole-child