TruexCullins Designer Wins AIAVT Emerging Designer Award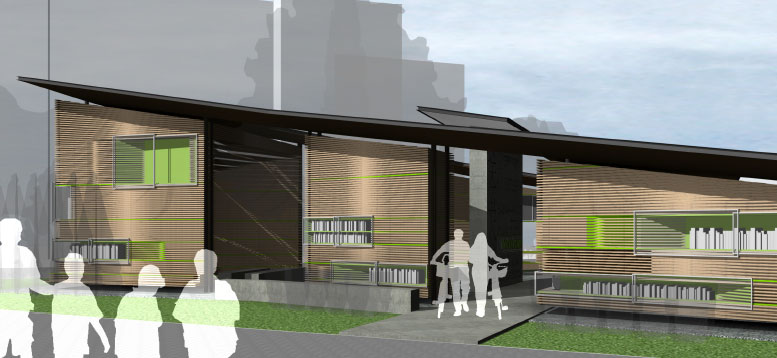 Congratulations TruexCullins' designer Josh Chafe on winning the American Institute of Architects, Vermont Chapter (AIAVT) – Emerging Professionals Network 2nd annual design competition. Josh is a part of the TruexCullins' Home Studio design team.
The competition invited architects and designers to submit designs for a library addition or satellite location with fewer than 2,000 square feet. Josh's winning design, "The Book Park", is a larger, modern and more comprehensive version of its inspiration – the Girl Scout's Little Free Libraries. Josh designed his library to fit a quirky underutilized grass triangle space across the street from Integrated Arts Academy, formerly H.O. Wheeler School in the Old North End of Burlington, Vermont.
The Book Park design serves the highest ideal of a library – being a full engaging community gathering and idea exchange space. It is inviting to the diverse neighborhood of people in that location and to the arts school of which it would be in close proximity. It would include welcoming features to convey the unification of the community, such as a multi-language welcome wall. All ages could participate, books would have shelving sectioned into age appropriate grouping, as well as a variety of seating options for individuals and group. The clean modern lines of the angled roof and walls would house high-tech functionality, such as  WIFI. This would provide access to the global community in a part of Burlington often excluded from the world conversation. Josh's innovative design demonstrates the power of a well-designed space.