An Architectural Mecca in America's Heartland
Last month we shared the first installment of Rolf's architectural travelogue, as he takes the scenic route from Vermont to Texas.  For his second stop, Rolf visited the small city of Columbus, Indiana, a "living museum" of mid-century modern architecture.
A day's drive from Buffalo, we slipped below Lake Erie and on to Columbus, Indiana, situated 30 miles south of Indianapolis. This small city of 40,000 (about Burlington's size) is home to the Cummins Engine Company. Cummins is the firm that makes those reliable truck engines one finds in the big Peterbilt rigs that crowd the roads out west. Columbus is a company town but seems to benefit fully from that status. Cummins employs 55,000 people worldwide, but its major operations are situated here.
The downtown has a bit of "big brother" feel but in actuality it has those makings of urban good that we architect planners are always touting: pedestrian and bike-friendly streets and walkways, well scaled street lighting, plentiful trees and a good little transit system to boot.
But the real story of Columbus is the architecture. In the 1940's, H. T. Miller, religious and community leader, orchestrated the making of the First Christian Church by Finnish/Cranbrook Architect Eliel Saarinen. The sons of the two men, J. Irwin and Eero, both Yale graduates, became fast friends. By the fifties, Irwin Miller had become the enlightened head of the Cummins Company, and Eero had become a renowned American architect. Miller began an architectural endowment fund that was established to pay the design fees for notable architects, and these architects were in turn hired to design the public buildings of Columbus. The outcome of this generosity has seen well over a hundred designed structures involving the talents of America's finest architects. In the process Columbus has been transformed into a living architectural museum.
Like Barcelona, this is a city that celebrates its architecture and it has become a tremendous draw, both for visitors and to those who proudly live here. One good building begets others and the city is a rich tour … which Stevie and I took, of course. First by bus and then on foot.  With a special tour of Irwin Miller's house, designed by friend Eero Saarinen and equally involving landscape architect (and later, Vermonter) Dan Kiley and Herman Miller interior designer Alexander Girard.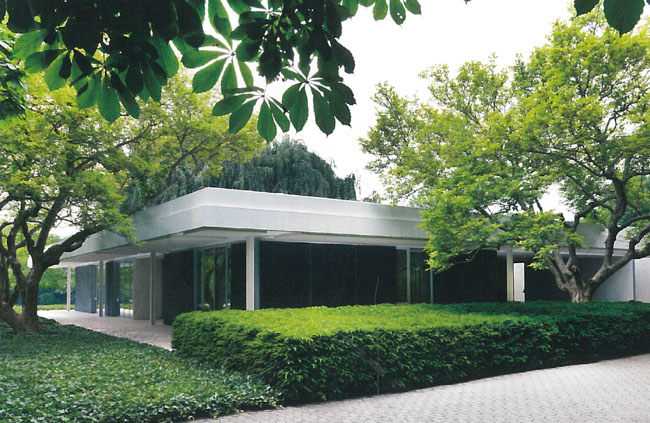 Some detail: Across the street from our Inn was the aforementioned First Christian Church from 1942, a work by Eliel Saarinen. Modest in form and material, this simply executed house of worship is close to a perfect building. A box and a vertical belfry or campanile: essential elements, artfully composed and on the street. The slight off-axis front repeats on the interior, with one side isle serving the taller chapel and apse. Brick and painted plaster dominate but are complimented by rich wood detailing in the choir and pulpit.
It's one of my favorites and it leads in part to my appreciation for another favorite, Venturi's Fire House No. 4 near the edge of town. Similar elements: appropriate to its neighborhood setting and using the hose drying tower as a stand-in for the more monumental campanile of Saarinen's church some 25 years prior. Venturi continues to amaze me. Both of these are serious buildings, modest and clearly purposeful. There is no "flab" in their execution. They are a fit for their place and time.
That clarity of purpose and modesty seems less obvious in some of the other projects we went on to visit. Eero's North Christian Church, some years later, seems overdone and unnecessarily sculptural; a little too much effort rather than the contextual clarity of his father's earlier work. But who am I to quibble with the Columbus works overall? The Cummins factory work of Kevin Roche, Eero Saarinen and Harry Weese carries on the fine tradition of industrial architecture that reached its zenith with the auto industry in Michigan. Likewise, the Columbus Commons building is an inclusive, multipurpose building that serves the community at all levels. Give a cheer for the public living room. All our towns should have some of that.
Eero Saarinen's house for friend Miller is a rigorous work but it strays slightly and is not quite on par with more disciplined works such as the Farnsworth or Johnson houses. Rigor is hard work and more difficult with increasing program complexity. For the most part, Saarinen seemed more adept at the free works of sculpture found in the Gateway Arch at St. Louis or the air terminals of Washington's Dulles and TWA at JFK. What right have I to judge? I'll add this on Eero Saarinen: his works have had to endure the critical scrutiny that go with an accomplished building. His headquarters for John Deere in Moline, Illinois removes any doubts that anyone might harbor about his accomplished work. This exemplary building (on my list of "to see" structures) merges high technology with a natural setting in ways that most of us "earthlings" can only dream about.
Columbus, on a sunny day is very appealing. The streetscape leans to the service of bikes and pedestrians. Public spaces predominate and as I mentioned, the "public living room" seems a must in our northern climates. Plan to spend a few days at least. It helps to study a bit prior to going. There are numerous books on the City and the architects who've worked here.
And if you do go … Stevie and I stayed at a bed and breakfast that was once the home of the elder Millers. A lovely revival home with a classical garden and high-ceilinged rooms. A delight.