How Will Design Change in Response to COVID-19?
by Matt Bushey, May 12, 2020
After nearly 2 months of a widespread shutdown, with millions out of work and schools shut down, the nation is preparing to get back to business.  While the path to reopen is wrought with challenges, many states have nonetheless begun that process.
Health and safety is our top priority, and facilities managers and building owners everywhere should wait to open until it is deemed safe to do so.  We recommend following state and local guidelines to understand when and how this can happen.
At the same time, we understand the increasing pressure to open our buildings back up, based on the real pain that stay-at-home orders can cause.  We all want to put the quarantine behind us, not only for economic reasons, but also to relieve the emotional stress brought on by prolonged isolation.  As we do this, we need to examine the spaces that we are about to step back into and make appropriate changes to support cognitive, emotional, and physical well-being.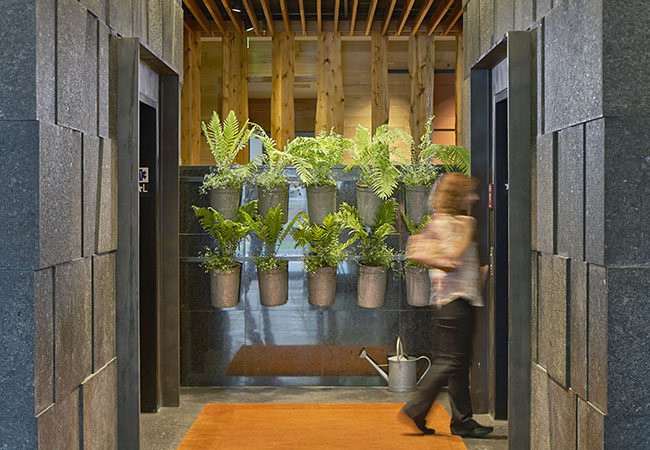 As architects and interior designers, we believe in the power of design to improve people's lives.  We all strive for human connection – in our workplaces, our schools, and our travels – and designing places for people to gather is at the core of what we do.  …Which is why it has been heartbreaking to see so many of our clients and friends struggle with the effects of this pandemic.
At TruexCullins, our design studios are focused on hospitality, education, workplace, and residential projects. All of these have been impacted by the coronavirus and are now confronted with the challenges of opening up to a different world than we were in just a few short months ago.
The hospitality industry has been hit especially hard, and our hotel and restaurant clients are making modifications to their operations and to their physical spaces to safely welcome guests back.
In Vermont, schools are expected to reopen in September, but what that may look like is still unknown.
Business owners are making changes to the workplace so employees can return to the office safely.
And even our homes are getting a second look, as people have been spending every waking moment in spaces that they have had to adapt to serve as home offices and remote classrooms.
There are steps that we can take – that we must take – to decrease the risk as we return to these spaces.
Some of our clients have reached out to us with questions about social distancing guidelines, or about modifications to their facilities to promote health and wellness.  Some have begun conversations with us to explore what may come next, and how we can help with preparing their space for reopening to the public.
Immediate changes may include installing handsfree plumbing fixtures, or reconfiguring furniture layouts to ensure proper distancing.  In many cases, the path that people take to enter a building may pose the greatest risk, as large groups are directed to enter through narrow doorways, funnel through corridors, or crowd into elevators.  Dispersed points of entry and staggered start times are just two solutions being explored.
Over the weeks and months ahead, we will explore many of these topics in more detail.  We will dive into the various challenges and solutions for each of our project studios, exploring specific strategies for hotels, restaurants, schools, offices, and homes.  There are steps we can take for all of these building types that will allow us to gather safely once again. So stay tuned.
In the meantime, if you're wondering what you can do to prepare your space for a safe reopening, to help alleviate anxiety, and put your guests, employees, and students at ease…  please reach out.  We're here to help.