Camp for a Day
by TruexCullins, October 20, 2011
Each year, our office closes its doors for a day for a staff-wide field trip.   Typically, we venture out to visit notable works of architecture around New England, or visit some of our own recently completed projects.
This year, in response to the widespread damage from the spring flooding and later from Hurricane Irene, we decided to forgo the annual field trip and instead spend a day volunteering our time for some of our neighbors in need.
So on Tuesday we headed to Camp Ta-Kum-Ta, a Vermont summer camp for kids with cancer.  Ta-Kum-Ta is an independent, non-profit organization that completely relies on donations and volunteer labor so they can offer once-in-a-lifetime experiences to all their children tuition-free.
In 2008, the camp moved from their previous home at Camp Holy Cross on Malletts Bay to their current location in South Hero.  It is a wonderful place to be, with over 150 acres, a cluster of new buildings, and a quintessentially Vermont view encompassing fields, farms, mountains and lake.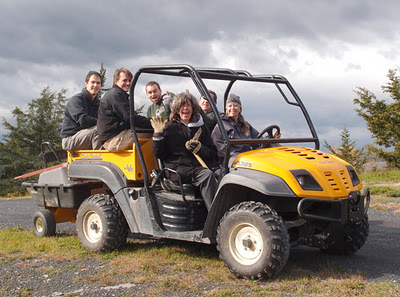 While there, we worked in the gardens, the fields, and the cabins.  We did our little part to help, but in the end, we probably got more out of it than they did.  It's impossible not to be affected by the positive energy you feel from being at this place.
In this spirit of lending a helping hand to our neighbors, we are also looking forward to more community action this weekend.  Governor Shumlin has declared this Saturday, October 22nd to be Vermont Clean-Up Day.  This is a statewide day of volunteering to assist communities affected by Tropical Storm Irene.
Clean-Up Day is modeled after the state's springtime Green-Up Day, and is similarly planned to become an annual event.  You can find additional information and learn how to help at www.vtcleanup.org.