Samoset Construction Update, Part II: The Story of a Table
by TruexCullins, June 1, 2011
In our last post, we shared some interior renderings of the Samoset Resort lounge, restaurant and spa, now under construction and soon to be open for business. The dining tables shown in the renderings are a joint project of TruexCullins Interiors and one of our preferred furniture makers, Lyndon Furniture, based in the Northeast Kingdom of Vermont.
We have worked with Dave Allard of Lyndon Furniture on many Interiors projects, and they always come through with beautiful, hand-crafted made-in-Vermont pieces that exceed expectations. At the Samoset, we worked with Lyndon Furniture on the design and fabrication of the feature dining tables in the restaurant and lounge.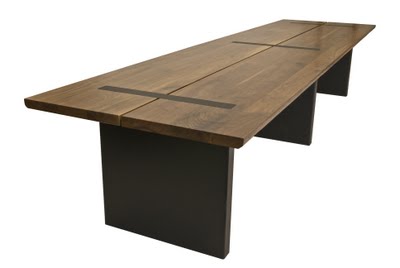 The largest table is thirteen and a half feet long and is made from two planks of 1 ¾" thick solid black walnut. The gap that runs down the center of the table accommodates the natural movement of the wood that can be significant in such a large piece. We think it also adds to the character of the table and highlights the beauty of the wood itself.
The legs of the table are fashioned from a single piece of welded steel, 3″ thick, that protrude up through the wood top and are visible from above, seemingly tying the two wood planks together. The fusion of the natural materials provides a fitting surface for the presentation of the Italian cuisine. Like the food it is designed to support, the table is simple, elegant and authentic in how it is made and assembled.
Our friends at Lyndon Furniture have described their process that led to the creation of these tables on their blog, the Designer's Corner. We continue to work with Lyndon Furniture on other projects and look forward to more creative collaboration opportunities ahead!