Singapore – Part II
by David Epstein, February 21, 2011
posted by David Epstein, AIA, LEED AP
This is the second post from David's recent trip to Singapore.  You can read the first one here.
I was encouraged on my recent trip to Singapore to visit the Marina Bay Sands Hotel by Moshe Safdie, the architect who became famous for Habitat 67 in Montreal. The Marina Bay project is no less impressive.
At $6.2 billion US dollars, it is billed as the most expensive casino property in the world. The project features a 2,560 room hotel, convention center, shopping mall, museum, theaters, restaurants, and casino. Easily the most unique feature is the SkyPark, a 340m long platform that connects the three towers at the 57th story and includes a 150m infinity edge swimming pool, restaurants, and observation deck. The SkyPark is detailed to look boat-like and appears as if a large ship fell out of the sky and landed on the three hotel towers.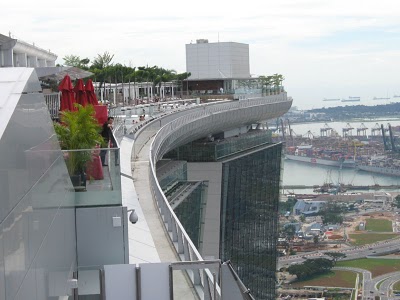 The three 57-story hotel towers are each constructed of two vertical banks of hotel rooms that splay apart at the bottom. The spaces are connected together to create a light-filled atrium at the ground floor:
The best surprise was discovering the Wind Arbor installation on the atrium walls. Comprised of thousands of suspended stainless steel panels, the Wind Arbor panels flutter in the wind and sun, and transform the hidden breezes into a visible liquid (see video below). I instantly recognized this as the work of Ned Kahn, an artist from the San Francisco Bay Area and old college friend.  It was great fun to make that connection halfway around the world.